Chart of the Week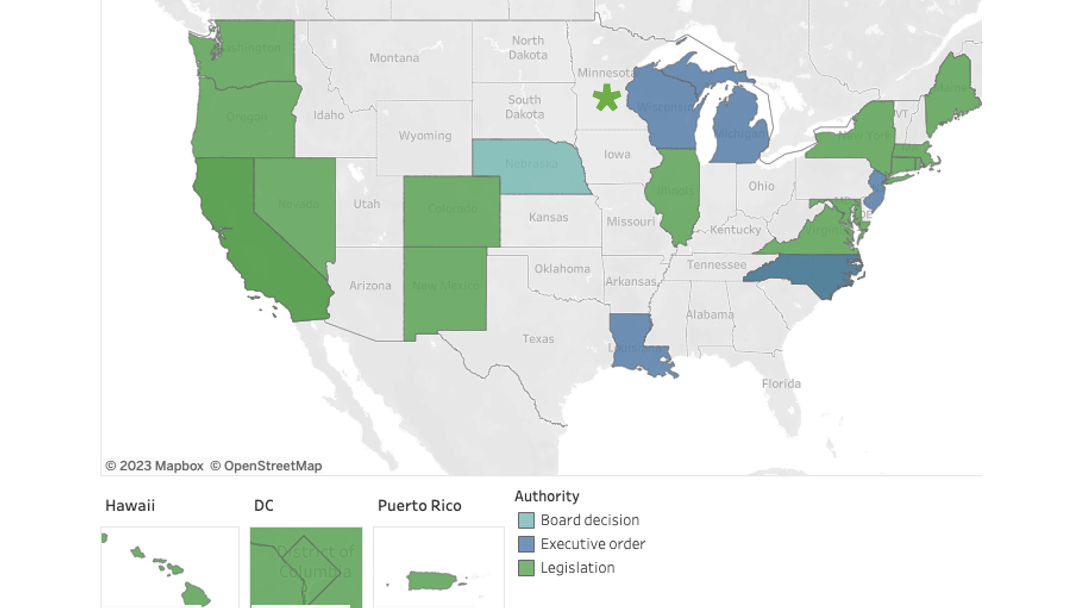 Minnesota joins states with 100 percent clean energy targets
Join the discussion about the Minnesota legislature passing a bill requiring 100 percent carbon-free electricity by 2040
View Topic
The Information Technology sector represents $1.7 trillion in U.S. sales and is the largest of all sectors in market cap.  Tech companies increasingly see the disruptive impact of climate change on their suppliers, customers, shareholders, and employees, and have responded by aggressively reducing their carbon footprint, as well as that of their supply chains, and implemented plans to rapidly transition to 100% renewable energy. The IT industry is a major force in shaping U.S. policy on many fronts and will be very influential in shaping climate policy.

The Information Technology action team's mission is to organize and support IT companies and trade associations to advocate for effective national climate policy. We will advocate for CCL supported legislation, with initial focus on
Carbon border adjustment mechanism (CBAM)

Permitting reform

Building & home energy automation

Forest restoration (for mitigation)
We intend to engage and educate small and medium software, networking, IOT and AI companies and local tech groups with particular emphasis on clean energy economy enabling IT companies. We will also provide expertise in support of CCL headquarters' engagement with large tech companies.

The IT action team plans to follow a Grassroots + Grasstops approach by recruiting and expanding CCL volunteers within IT companies who will pursue top management support for CCL initiatives. We will be the domain experts in adapting CCL messaging and presentations for the IT sector.

An excellent example of the IT action team's impact is their relationship with Silicon Valley Leadership Group (SVLG), an organization with over 350 tech company members. Over a 2.5-year period the IT Action Team and SVLG co-hosted four meetings of 15 major tech companies and commissioned a study to assess the business impact of carbon pricing legislation on the IT sector. As a result, in 2019 SVLG leadership voted to "support in principle" the Energy Innovation and Carbon Dividends Act (EICDA) and to communicate their support to key members of Congress during their annual lobbying visit to Washington DC in April 2020.

We invite CCL members, leaders of IT companies and trade associations to contact our IT Action Team and join your peers in influencing effective national climate legislation. 

Team Leaders

Steve Hams is co-lead of the IT Action Team.  Steve brings more than 30 years of management experience in human resources, high tech, medical technology, education, sports and non-profit fields to CCL and has consulted on climate change and education for nearly a decade. Before joining CCL, Steve was the Organizational Sustainability Officer at the Skoll Foundation in Palo Alto, Calif. During his more than 20 years in the technology sector he held senior executive positions at Kyphon, Epiphany, and Hewlett Packard.  He was also the co-founder of the American Basketball League, the first women's professional basketball league in the '90s.

Marc Friedman is co-lead of the IT Action Team. He has 40 years of executive, entrepreneurial and start-up experience in software, telecom, datacom, storage and semiconductors. As a business advisor for the past 12 years, Marc has mentored many early-stage software companies in a variety of sectors, including solar, wind, microgrid and energy efficiency. Previously he was CEO of Syntricity and Prisa Networks software companies. Before Prisa, he held various marketing and general management positions at semiconductor companies AMCC and TRW LSI Products. Marc is an avid hiker, walker, swimmer, and traveler.