Chart of the Week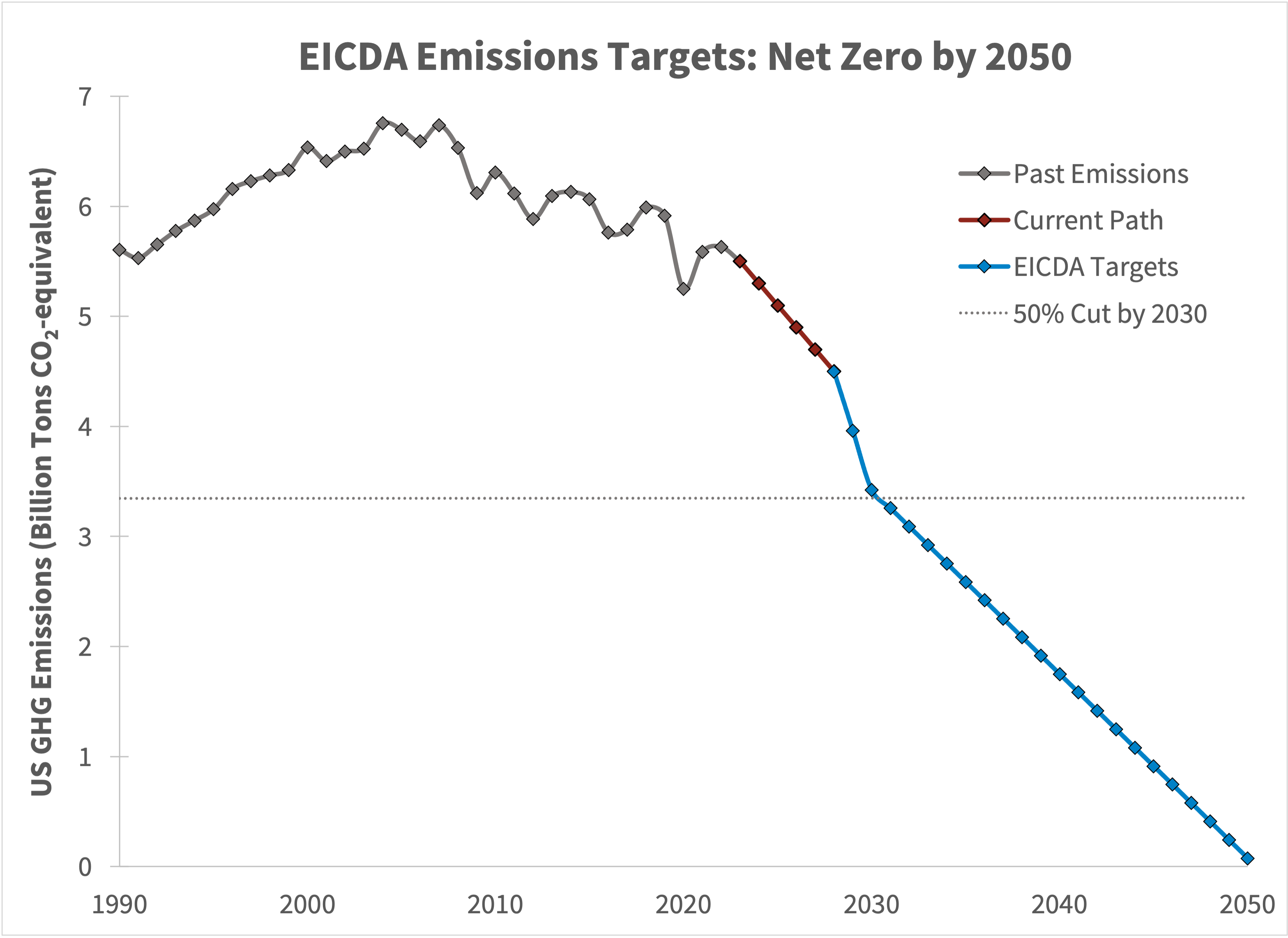 Climate pollution cuts targeted in the Energy Innovation and Carbon Dividend Act
Join the discussion about how much the EICDA will help cut US climate pollution
View Topic
About Us
Description:
Identify and engage community leaders who, (1) will influence your member of Congress, and (2) you have access to through your network. Determine with the community leader an action that they can take to demonstrate strong district support for climate action and then work with the influencer to take the action. Communicate with the community leader regularly to build your relationship and help them take multiple actions over time.


Ask a question in the Forum or email if you need help engaging community leaders.



Current Grasstops Priorities
1. Get endorsements from community leaders your know for carbon pricing and carbon cashback on the public endorsement form.
2. Use our Electrification Letter template to contact local elected officials (city and county level) and ask them to join the Local Government Leader Electrification Coalition. This is a joint project with Rewiring America.
Grasstops Engagement webinars 
September 2023 Endorsement from New Hampshire State Representative video slides
August 2023 Endorsement from American Federation of Teachers, AFL-CIO video slides
July 2023 Tips from Grasstops Volunteers Angie Winter (slides) Laurie Manos (LL Bean slides, Carbon Pricing slides, Quotes from Trusted Messengers) (video)
June 2023 State of Hawaii Resolution for Carbon Fee and Dividend Noel Morin (slides video)
May 2023  Legislative Update with Kyle Kammien  (video)
April 2023 Co-author LTE with a (conservative) community leader Alex Amonette (slides | video)
March 2023 Get started on electrification! Rahul Young (letter template | slides | video)
February 2023 Outreach Strategies and Successes Kyle Kammien, Laurel Eastman, Waqar Qureshi (video)
January 2023 New Endorsement Form Sabrina Butcher (video | slide)
December 2022 Grasstops' Impact on Congress Levi Kamolnick (Ceres | video)
November 2022 How little voices impact big leaders Sharon Bagatell (video)
October 2022 Invite Community Leaders to Events Angie Winter (video)
Septmber 2022 State-level Grasstops Organizing Constantine Khripin (video | presentation)
August 2022 Take Action! Sabrina Butcher (video)
June 2022 How to Build Relationships with Athletes Anne Ready (video)
May 2022 Organizing your Grasstops Team Don Campbell, Norma Morrison, and Laura Haule (video)
April 2022 How Young People Can Get Involved with Grasstops Melissa Parrott (video)
March 2022 Grasstops Guidance from a Super Volunteer Laurel Eastman (video)
February 2022 How to Use the Ceres Sign-on Letter Kyle Kammien (video | letter)
January 2022 Connecting with Coffee Businesses Emily Koester (video)
December 2021 How Community Leaders Impact MOCs Jenn Tyler (video)
November 2021 How to Get Educational Endorsements Gerda Newbold, Debbie Patrick, and Jim Patrick (video)
October 2021 Nationally Prominent Endorsements- NGOs Hardy Almes (video)
September 2021 Reconnecting with Endorsers Robin Paone, Mark Welsch, and Virginia Bernal (video)
August 2021 Engaging State Legislators an interview with Tom Moyer (op-ed | video)
July 2021 How Mark Ailes got the AFT endorsement Mark Ailes (video)
June 2021 How your grasstops team can get lots of endorsements, Bill Bussey (letter1 | letter2 | video)
May 2021 Getting and publicizing endorsements from mayors, Ray Roberts (publicizing endorsements | video | CCL media materials | Climate Mayors)
Apr 2021 State legislator endorsements in Oregon and state level organizing, Brian Ettling and Jerry Porter (video | Oregon State Resolution SJM5 Overview & Text)
Mar 2021 How to move your endorser up the engagement ladder, Kyle Kammien (video)
Feb 2021 Asking: the key to get what you need, Jean Ritok (video | Empowered asking handout)
Jan 2021 Get your Mayor to make a video, Dave Sandhusen, Greg Hamra, Dierdre Henderson (video | bit.ly/100resos (Mayor's Video) | Email instructions for video testimonial endorsement tool | PPT of Mayor Tiller's Endorsement)
Nov 2020 Initial contact and Catholic Colleges, Jessie Snyder (video | resources) 
Oct 2020 State-level legislator endorsements, Beth Chajes and Karen Poshefko (video | example email)
Sept 2020 Danny Richter on re-engaging elected officials (video)  (Danny's notes)
Sept 2020 Automotive Sector endorsements, Norma Safransky (video | Corporate Support for Carbon Pricing | Toyota Email | BCL Automotive Sector)
Aug 2020 Insurance and Finance endorsements, John Keller & Mike Metzner (video | powerpoint | bank insurance support handout)
Jul 2020 Health care professionals and organizations, Lisa Del Buono (video | useful links)
Jun 2020 Endorsers from the viewpoint of Congress, Ben Pendergrass (video | CCL training page)
May 2020 Climate Declarations, Randy Salim (video | slides | Climate Declaration Page)
Apr 2020 Economic rationale for CFD/HR763, Robert Archer (video | slides | CCL Community page)
Mar 2020 How to Accelerate Endorsements, Jason Lewis & Bruce Hagen (video | slides)
Feb 2020 State wide resolution teams, Mike O'Hara, Eleanor Saunders, Kathy O'Connor (video)
Jan 2020 Economist Support, Jerry Hinkle (video | slides)
Dec 2019 Labor Outreach, Dave Massen (video | notes)
Oct 2019 Proclamations, Edward Beshore & Jane Conlin (video | AZ Proclamation Debrief | AZ Legislators Briefing)
Sep 2019: Focusing your Grasstops Outreach, Steffi Rausch (video | notes)
Aug 2019: Professional/Trade Association Endorsements, Steve Hams (BCL) (video | SVLG Support Letter in principle for EICDA)
July 2019: Winery Endorsements, Jim Bernau (Willamette Valley Vineyard) & Chris Wilson (Raffaldini Vineyards) (video | Winery Endorsement Resources on BCL)
May 2019: Chamber of Commerce Endorsements, Greg Hamra & Corbin Shouse from Miami, FL (video | Resource notes & links | CCL Community Webinar & Resources | CCL Forum thread with ideas | Email to Chamber from endorsers/CC members | Chamber PPT Presentation)
April 2019: Seeking Local City Resolutions with Justin Pelczarski and Emily Church on Chicago CF&D City Resolution (video | Community Resources | 100 Municipalities endorse EICDA promo video)
March 2019: Seeking Rotarian Endorsements with Karen Hendrick-Hands (video)
Feb 2019: How to engage with, and get endorsements from, large local employers and elite athletes, with Bill Barron (video)
Jan 2019: Farmer endorsements and interview with Asher Wright, Warren Wilson College Farm Manager and sustainable agriculture Farmer (video | Links | Farmer Infosheet Flier – Word | PDF)
Dec 2018: Brewery endorsements and interview with Eppa Rixey, Strategic Planning Manager at Lagunitas Brewing Co (video | Brewery Endorsement Resources on BCL)
Oct 2018: League of Women Voters (LWVUS) on their carbon pricing resolution, Eleanor Revelle & Linda (Diz) Swift (video | notes/links | slides)
Sept 2018: Coffee endorsements, Peter Monroe (video | notes/links | Coffee Infosheet Flier – PDF)
Aug 2018: Grasstops range of actions , Harold Hedelman (video)
July 2018: BCL, Conference Tabling, & Brewery Success story, Rebecca with BCL & Steffi Rausch (video)
May 2018: Engaging with Local Elected Officials, Dan Dieterich (video)