Chart of the Week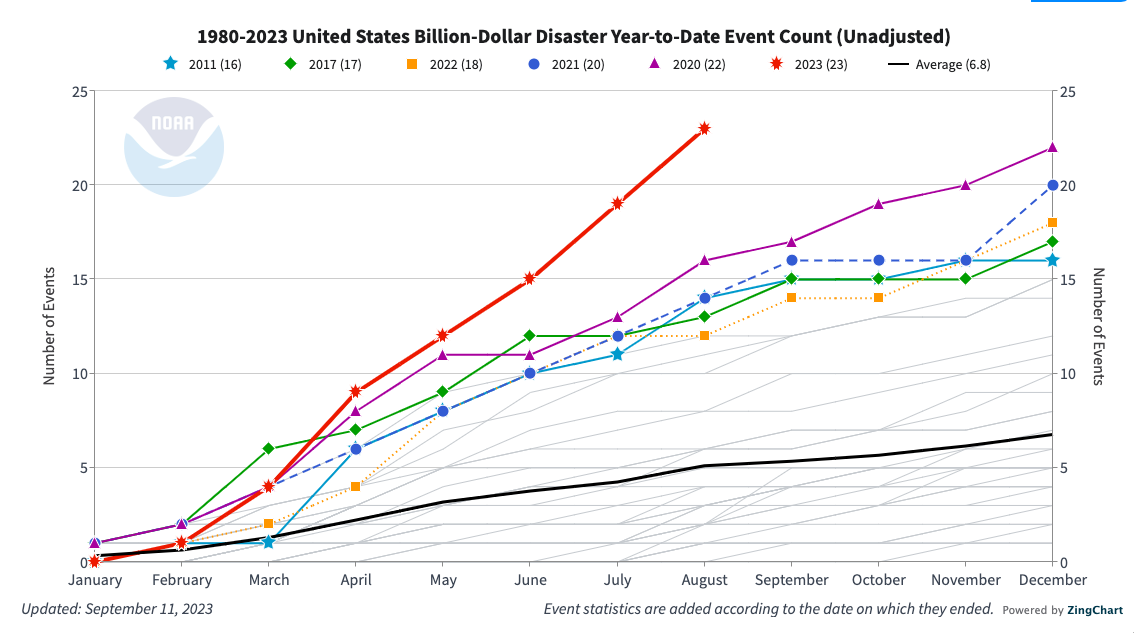 The USA already set a record number of billion-dollar weather disasters in 2023
Join the discussion about the record of at least 23 billion-dollar weather disasters in the USA this year
View Topic
About Us
Description:
The best way to JOIN this team is to ask your Group Leader or Chapter Admin to use their
Chapter Roster Tool
to designate you as a Mobilization Manager.
This CCL
Mobilization Managers
 group gives team members access to group events, resources, a discussion forum and peer support. 
The 
role description of a Mobilization Manager
 is as follows:  
Work directly with your local CCL chapter leadership team specifically to:
Set a goal and create a plan for how many people you want to mobilize for each campaign or action.

Keep a spreadsheet and every month enter your goal and, when possible, the actual number of people mobilized.
Ask the person who logs your monthly chapter meeting in the Action Tracker to write your goal in the notes.

Lead the mobilization action designated by CCL HQ during each month's chapter gatherings. It might be a Climate Action Program (CAP) alert, a campaign, an item in the Action Sheet or something else. 
Follow up with solo engaged volunteers in your chapter who do not attend chapter meetings to help them take action. You can find these people in your chapter roster tool using the "Engagement Segment" filter. There is no need to follow up with folks who are unresponsive for a month or more. 
More ideas for Mobilization Managers
Cast a wide net initially and keep a list of the folks who take action from month to month. This is your chapter's action mobilization team. 
Post the action on the chapter's social media, forum and/or chapter newsletter
Announce bonus actions for interested volunteers
Ensure volunteers log their actions in the Action Tracker (when the action does not use a tool with auto-logging)
If you have a question
, please check to see if it's answered on 
CCL Community Climate Action Program training page
.  If it's not answered, please post in our team forum. 
You can "Leave" this group by asking your group leaders to unmark you as a Mobilization Manager in their chapter roster tool, and following
these instructions
.
For information about the transition from CCL's old Monthly Calling Campaign to our next-generation Climate Action Program (CAP), see 
CCL Community Climate Action Program training page