Chart of the Week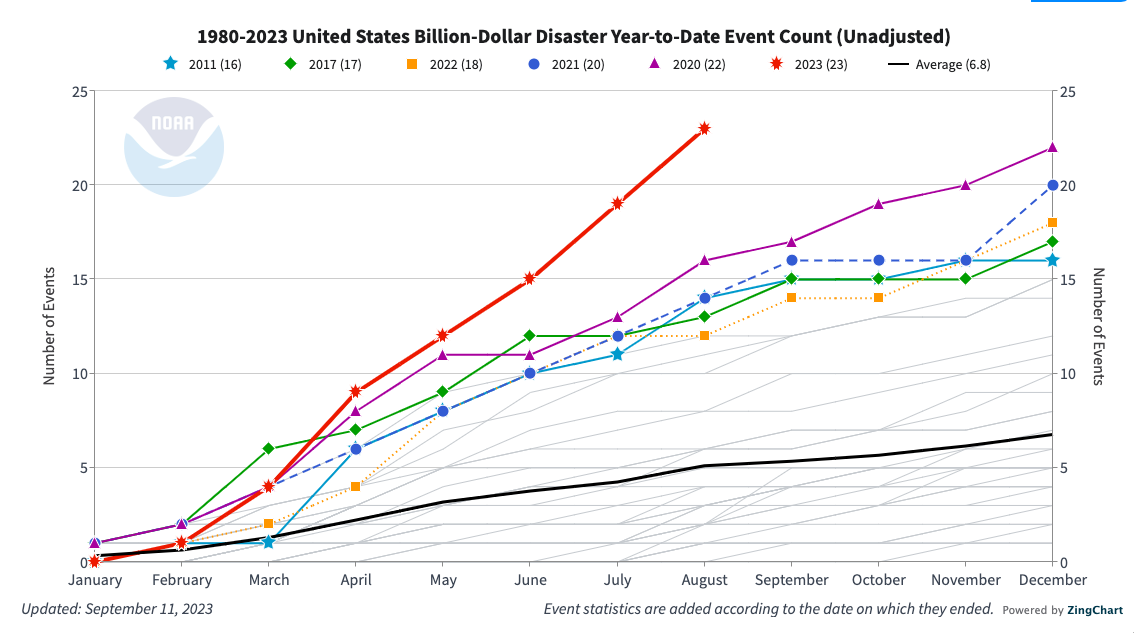 The USA already set a record number of billion-dollar weather disasters in 2023
Join the discussion about the record of at least 23 billion-dollar weather disasters in the USA this year
View Topic
About Us
Description:
Welcome to our Onboarding Action Team!
In addition to onboarding best practices, we share effective ways to conduct outreach, engage new volunteers, and retain chapter members.  Please join us as we learn from each other!
Forums
Does your chapter have special, unique or particularly successful ways of onboarding new volunteers? If so, please share in our Onboarding Action Team forum!
 
Hot Tip
Using this recipe in Louisiana, we now have 58% of new prospects accept our offer to talk on the phone or zoom.  It's now 50% in Mississippi and 25% in Alaska. If you want these same results, then follow our recipe for success.
Contact new prospects immediately.
Send a very short email. If they don't respond, two days later, send a short text.
Message contains one question: Do you have ~30 to talk on the phone this week or next?
Hi (name),

My name is [YOUR NAME], and I'm a welcome volunteer with Citizens' Climate Lobby. Thanks for signing up! 

Do you have ~30 to talk on the phone this week or next? The call would give you a brief overview of our organization and begin the start of finding a role for you.

If you're interested in taking focused action on climate change, we'd love to have you join our local chapter! Let me know if you have any questions.

Thank you, and I hope to hear back soon!
Onboarding Welcome Team Program Resources
Role Descriptions & Email Templates
Tools for Sending Meeting Reminders
CCU Training: Growing Your Local Group
Additional Training
This slide deck covers what CCL HQ does in its "electronic nurturing program" for new prospects and describes a best practices Welcome Program that you can use as a model for your chapter
Meeting recordings and resources
An appreciation of onboarding
I just wanted to comment that the welcome call I received as a new member of the Austin chapter is what led to me being involved in the MCC campaign, the lobby team, and this new ad project we have. Without that call, I don't know how long it would have taken me to get involved and/or if I would have ever gotten involved in the MCC campaign. Those welcome calls are great for getting people engaged, especially in the context of "what types of actions do you like," leading them right then and there to step into a campaign. - Matt Mire, TX Austin volunteer
Our Mission Statement
The mission of the Onboarding Action Team is to provide a place for education, sharing and resources for the onboarding process in a nurturing, interactive and enjoyable environment. We view onboarding expansively to include acclimating new and prospective volunteers, activating and retaining volunteers, and chapter development and organization.

We invite guest speakers from chapters which have a proven track record for successful onboarding, volunteer engagement and retention, providing resources and tools, and chapter development. We create a learning environment for group leaders and onboarding teams who are seeking information on successful onboarding processes for their own chapters.