Chart of the Week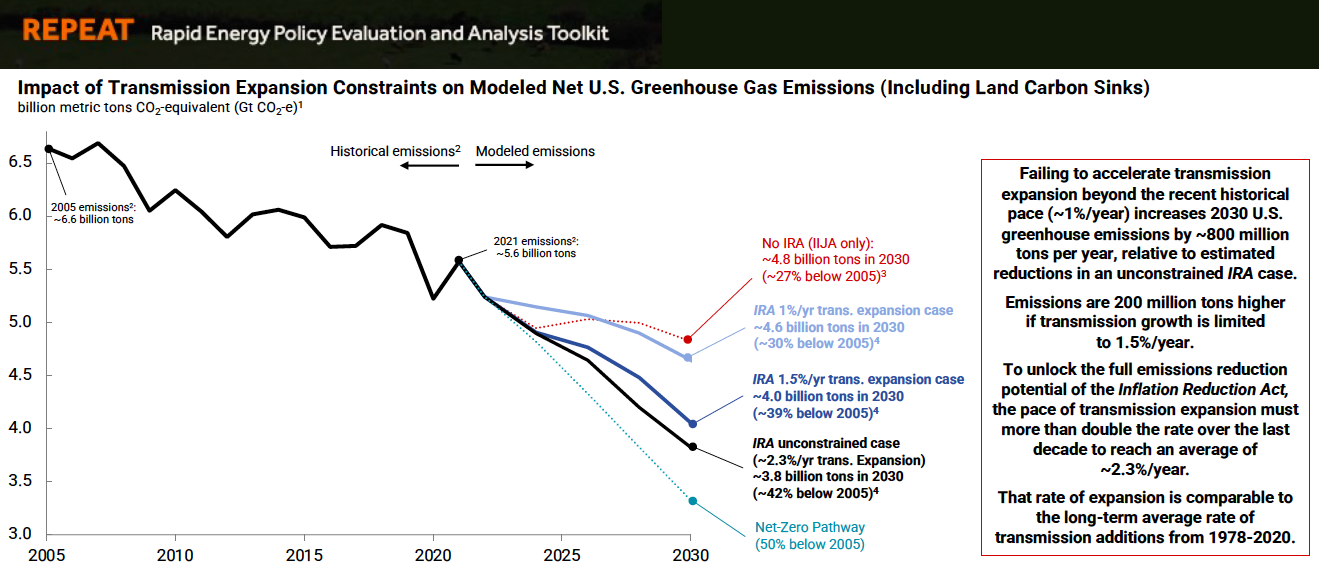 Emissions cuts from different levels of transmission build-out
Join the discussion about the importance of building transmission infrastructure faster and the challenges of permitting reform deals
View Topic
About Us
Description:
Welcome to the Austin chapter of Citizens' Climate Lobby! Jump right into your climate activism here: 
https://bit.ly/ATXCCLactionsSept
This chapter is for Austin-area CCL members who live in TX10, TX17, TX21, TX25, and TX35 congressional districts. We meet (virtually) on the second Saturday of each month right after the CCL national call that takes place at noon CST. The links for these calls are sent a few days before the meeting via Community email. Or you can contact
austin@citizensclimate
lobby.org
to get details.
The Austin chapter structure is guided by the Five Levers of Political Will. Members are encouraged and guided toward the volunteer activities within these levers that most fit their passions and skills. If you want to learn more about any of these outreach categories you can contact a Lever Leader.
Grasstops 
 Neile Edens, 
neile.edens@gmail.com
Media 
 Kalpana Sutaria, 
kalpana.sutaria@usa.net
Lobbying 
 Marie Miglin,
mtmiglin@gmail.com
Group Org & Dev 
 Cynthia Lesky,
cynthia.lesky@gmail.com
Grassroots 
 Jessy Eubanks,
jessyeubanks@gmail.com
Please continue reading to learn more about the organization and activities of the Austin chapter.
Location:
Austin, TX 78701, United States
Did you just join Citizens' Climate Lobby?
Start here!
First step: Attend CCL's intro call
If you have not already done so, attend an informational session. You can sign up for a live or recorded session here: 
https://citizensclimatelobby.org/informational-session/
. Learn more about Citizens' Climate Lobby and how you can make a difference in creating the political will for legislation that will put us on the path to reduce the emissions that are changing our climate. This session will introduce you to CCL's respectful, nonpartisan approach to climate activism that builds on shared values rather than partisan divides. At the end of the hour call, you'll feel empowered and ready to take action!
Second step: Sign up for the Monthly Calling Campaign
We ask every member of CCL in Austin to commit to calling their congress member once a month to advocate for pollution pricing, or as we are used to calling it, carbon fee and dividend. We advocate for The Energy Innovation and Carbon Dividend Act in particular 
https://energyinnovationact.org/
. But sometimes the message varies. You'll get a suggested script with your monthly call reminder. And if you've never called your representative, don't worry. It may sound scary, but you'll do it once and then think "wow, that was easy!"  To learn more about the calling campaign and to sign up, go to:
https://cclusa.org/mcc
Third step: Attend our next monthly meeting
CCL chapters around the country meet via Zoom on the second Saturday of each month. A national call usually features a speaker. When that meeting winds down at about 12:45, we all switch to our local meetings on a different Zoom line.
National meeting start time: 12:00 noon     Zoom link: cclusa.org/meeting
Local meeting start time: 12:50 (to end by 2:00)
Zoom link: https://bit.ly/ATXCCLmtg   Passcode: 123
Join from iPhone using one-tap (US Toll): +16465588656,7237228489#
Join by telephone: +1 646 558 8656 (US Toll), meeting ID 723-722-8489
Mark your calendar now!
And in the meantime, feel free to reach out to one of our group leaders to learn more about local and state CCL activities or email austin@citizensclimatelobby.org. We look forward to meeting you!