Chart of the Week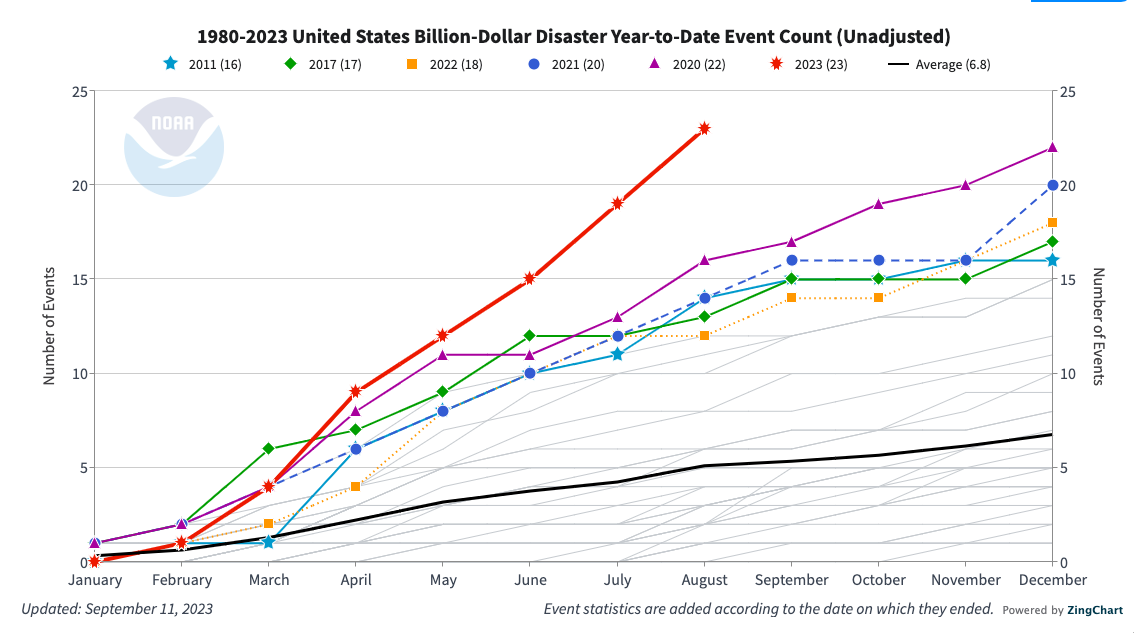 The USA already set a record number of billion-dollar weather disasters in 2023
Join the discussion about the record of at least 23 billion-dollar weather disasters in the USA this year
View Topic
About Us
Description:
Welcome to the Austin chapter of Citizens' Climate Lobby! Jump right into your climate activism here: 
https://bit.ly/ATXcclVolunteerInterests
.
This chapter is for Austin-area CCL members. We meet (in-person and virtually) on the second Saturday of each month in conjunction with the CCL national call that takes place at noon CST. The links for these calls are sent a few days before the meeting via Community email. Or you can contact
austin@citizensclimate
lobby.org
to get details.
Supporting our lobbying, tabling and other activities is easy through this
Donation Form
. Select Austin Chapter under the Purpose pulldown.
Your actions, however, are what is most valuable. You will find an activity that fits your passions, skills and personal goals under one of the
Five Levers of Political Will
. You can contact a local Lever Leader to learn more.
Grasstops 
OPEN
Media 
 Kalpana Sutaria, 
kalpana.sutaria@usa.net
Lobbying 
 Bruce Miglin,
bmiglin@comcast.net
Group Org & Dev 
 Cynthia Lesky,
cynthia.lesky@gmail.com
Grassroots 
 Jessy Eubanks,
jessyeubanks@gmail.com
Please continue reading to learn more about the organization and activities of the Austin chapter.
Location:
Austin, TX 78701, United States
Did you just join Citizens' Climate Lobby?
Start here!
First step: Attend CCL's intro call
If you have not already done so, attend an informational session. You can sign up for a live or recorded session here: https://citizensclimatelobby.org/informational-session/. Learn more about Citizens' Climate Lobby and how you can make a difference in creating the political will for legislation that will put us on the path to reduce the emissions that are changing our climate. This session will introduce you to CCL's respectful, nonpartisan approach to climate activism that builds on shared values rather than partisan divides. At the end of the hour call, you'll feel empowered and ready to take action!
Second step: Attend our next monthly meeting
The Austin Chapter meets on the second Saturday of each month in conjunction with the national call.  Our meetings are hybrid, that is some folks gather in person and others join in via Zoom. In person, we get together at about 11:30 for snacks and socializing, then we watch the national virtual meeting , which usually features a speaker. When that meeting winds down at about 12:45, we have our local meeting, with some folks joining via Zoom. The location of the in-person meeting varies. 
National meeting start time: 12:00 noon     Zoom link: cclusa.org/meeting
Local meeting start time: 12:50 (to end by 2:00)
Zoom link: https://bit.ly/ATXCCLmtg   Passcode: 123
Join from iPhone using one-tap (US Toll): +16465588656,7237228489#
Join by telephone: +1 646 558 8656 (US Toll), meeting ID 723-722-8489
Mark your calendar now!
And in the meantime, feel free to reach out to one of our group leaders to learn more about local and state CCL activities or email austin@citizensclimatelobby.org. We look forward to meeting you!
Third step: Volunteer for something!
Actions you can take include tabling, finding tabling or speaker opportunities, greeting new members, posting on social media - and always, always, responding to calls to contact your legislators!