Chart of the Week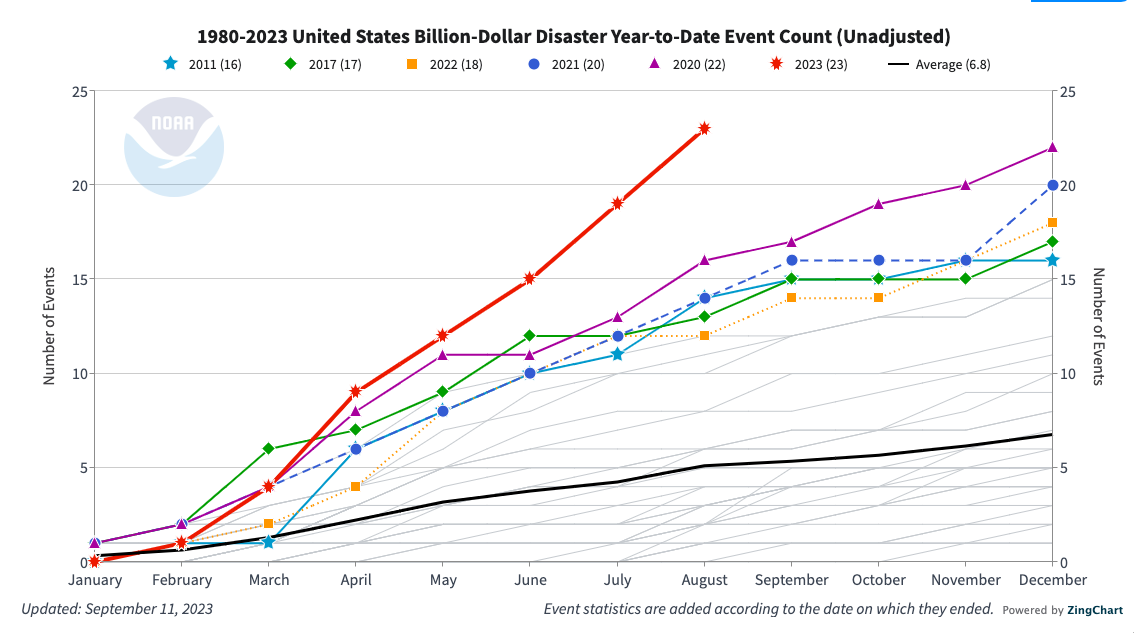 The USA already set a record number of billion-dollar weather disasters in 2023
Join the discussion about the record of at least 23 billion-dollar weather disasters in the USA this year
View Topic
About Us
Description:
Welcome to the Jewish Team.
We are energizing the Jewish Community to take bold action on climate change.  Just as Jewish leaders played a pivotal role in the civil rights movement, we believe Jews can and will step forward today on the climate crisis.
Yonatan Malin is the action team leader; Rich Scissors and Phyllis LeFevre are on the steering committee.
We meet a few times a year to support one another and to hear speakers present on other climate-related Jewish/faith outreach efforts.  What can you do to move the needle forward?  Use the five levers of political will to amplify our message.

Here are a few resources:
Here are some specific actions you can take today
Media relation.

Write articles and letters for local and national Jewish publications.

Grassroots outreach.

Give presentations at your synagogue or at your local JCC; g

ive a d'rash at a Shabbat service; p

rovide readings for your clergy related to climate change that they can use on Jewish holidays.

Grasstops outreach. W

ork with your rabbi, cantor, and local Jewish leaders to gain support for HR763.

Team development.

Encourage other Jewish members of CCL to join the Jewish Action Team.

Lobby your member of Congress

.

Whether your member of Congress is Jewish or not, bring your faith, your culture, and your values to your meetings and letter writing activities.
Thank you!
-Yonatan Malin
yonmalin[at]gmail.com