Chart of the Week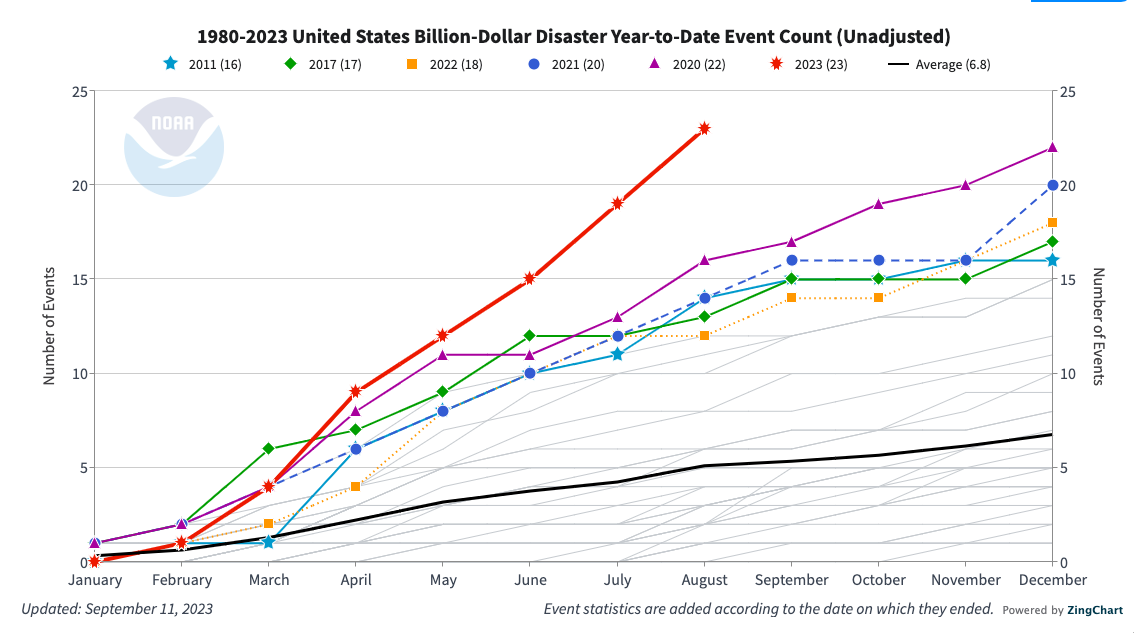 The USA already set a record number of billion-dollar weather disasters in 2023
Join the discussion about the record of at least 23 billion-dollar weather disasters in the USA this year
View Topic
About Us
Description:
Welcome to the Catholic Action Team!
We educate and activate Catholics to address the climate crisis by advocating for carbon pricing.

Guided by Pope Francis's encyclical, Laudato Si': On Care for Our Common Home, we inspire Catholics to advocate for solutions to protect God's Creation and mitigate climate change. We promote legislation that puts a price on carbon and protects the most vulnerable among us.

Some opportunities to engage: reach out to Catholic organizations for endorsements, join our Twitter/Storm campaign, offer presentations to faith and Latino communities, start a Creation Care Teams, and share your initiatives with us.  To join the Catholic Action Team, hit the green "Join" button above. 

Monthly Meetings: Last Wednesday of each month, 8:30 ET
Co-leads: Steve Coleman and Trudi Jenny

Our 2021 Conference
On May 15. we offered our first virtual Catholic Climate Conference, featuring great keynote addresses and breakout sessions. See Brian Roewe's article on it in the National Catholic Reporter. If you missed the event, check out the Conference Videos and Res
Our Monthly meeting on May 26 was full of gratitude for a successful Catholic Conference and discussion of how to engage with the Catholic Action Team.





General Google Drive Access


Opportunities for Engagement
Outreach to Catholic Organizations

Twitter Storm

Latinx Catholic Outreach Team

Reaching Out to Catholic Audiences

Creation Care Teams

Outreach to Catholic Universities and Institutions
In Breakout Session 2 at our Catholic Climate Conference on May 15th, "Effective Outreach to Catholic Universities and Institutions", Andy Panelli and Jessie Snyder shared their successes and challenges in reaching out for endorsements from Catholic institutions. We encourage you to watch the video of their presentation and check out the associated Resources.

Jessie successfully made contact and received endorsements from a number of Catholic Colleges and Universities. With about 240 Catholic Universities in the USA, Jessie could use some help. It should be noted that her methodology should also be valid for other faith-based universities.

Twitter Storm
In the Closing Session of our May 15 Conference, Allen Phillips shared the importance of engaging in our Twitter Storm campaign. To hear his short introduction to the process go to minute 40 in the Closing Session video. Our resources document provides you links to trainings.
Reaching Out to Catholic Audiences
We have a breakout session called "Reaching Out to Catholic Audiences" at our Catholic Climate Conference. We encourage you to watch the video of the breakout and reference our Resources document for appropriate materials.

Latinx Catholic Outreach Team
Inside the above Google Drive is a collection of resources for general Catholic audiences as well as Latinx groups regarding reaching out and scheduling presentations to Latinx audiences.

More specifically there is a Member Information spreadsheet listing all active members of the group and their contact information; Outreach Partners, an up-to-date spreadsheet with present and past contacts we have reached out to as well as Presentation resources that have everything from promotional videos, to recordings of previous presentations and slide templates.
Objetivos del grupo latinx catolicx 
Objectives for the Latinx Catholic group
1. Desallorrar una red de hispnohablantes que conocen y apoyan a CCL y al Laudato Si'. (Develop a network of Spanish speaking people who know and support CCL and Laudato Si'.)
2. Desallorrar una collección de presentaciones para el alcance comunitario en español y un grupo de presentadores. (Develop a compilation of Spanish outreach presentations and a group of presenters.)
3. Dar precentacioned virtuales en español. (Give virtual presentations in Spanish.)4. Atraer nuevos miembros a CCL y a grupos para el Cuidado Parroquial para la Creación. (Attract new members to CCL and Parish Care for Creation Teams.)
 
Creation Care Teams
Most Action Team members are also involved in or initiating Creation Care Teams (CCT's) in their home parishes. We had a couple breakout sessions on Creation Care Teams at our Catholic Climate Conference on May 15. We encourage you to watch the videos, "Starting a Creation Care Team" and "Tools for Creating Creation Care Team Momentum". Our Resources document provides links to relevant backup materials. We highly recommend working with the Catholic Climate Covenant for inspiration on starting and growing CCT's. Following are a few recommendations from us.

As you begin your conversation with your pastor, a great document to leave with him is Steve Coleman's booklet, A Catholic Response to Global Warming. Steve sites Pope Francis's Laudato Si', statements from other Popes and the USCCB (United States Conference of Catholic Bishops) on climate change and care for creation. He then talks about the science of climate change and possible solutions to the crisis (including EICDA). Steve's booklet is a good primer for priests who have not had the time to become knowledgeable on the topic.

It is particularly important to be familiar with Pope Francis's landmark encyclical Laudato Si'. People of all faiths have read the document and it is a good entre when talking with a Catholic Member of Congress. 
One way to engage your parish in creation care is to include intercessions on the issue during Mass on Sundays. Another way is to place short bulletin announcements on creation care in the weekly bulletin.