Chart of the Week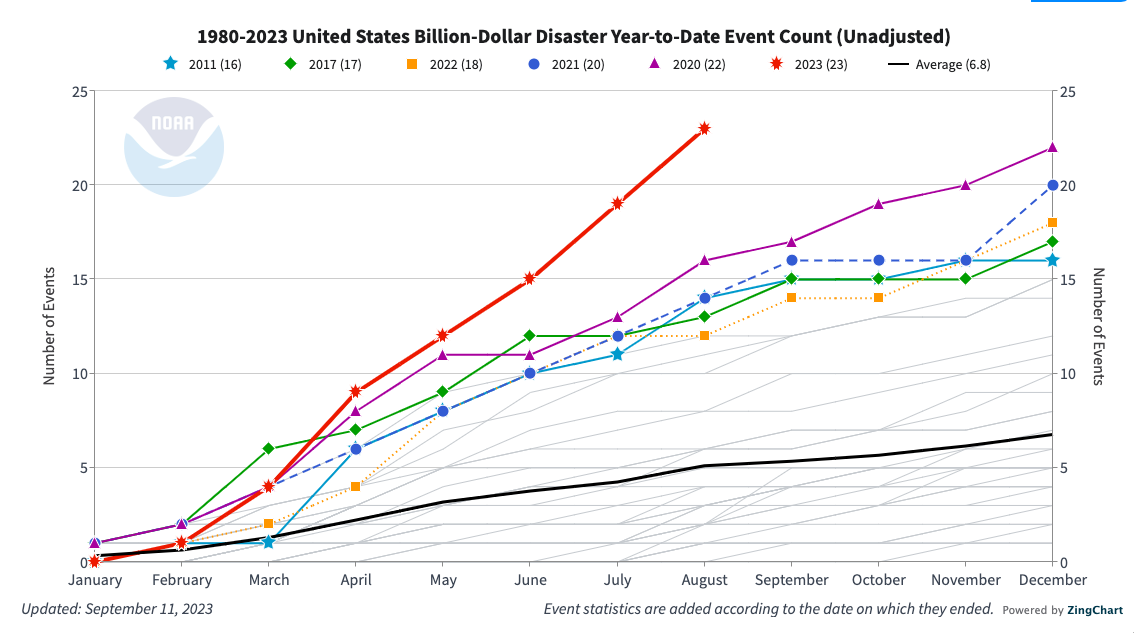 The USA already set a record number of billion-dollar weather disasters in 2023
Join the discussion about the record of at least 23 billion-dollar weather disasters in the USA this year
View Topic
About Us
Description:
Welcome to the Health Team on Community! We are here to help. Feel free to contact us at:
If you are new
, tell us about yourself either on the health team forum or by emailing Lori (email above)! 
Interested in reaching out to health professionals?
 Pertinent links to facilitate outreach are below under "More Info" section or email Lisa (email above).
THE HEALTH TEAM IS DEDICATED TO:
Identifying and securing endorsements for action on climate change and Carbon Fee & Dividend from local and national medical and health-related organizations

Educating ourselves, CCL, and health/healthcare/research professionals on how climate impacts health

Working with other climate/health groups to further the cause
Join our Monthly Calls:
4th Monday of the Month @ 8:30 pm EST / 5:30 pm PT: General Health Team call, with guest speaker. Everyone welcome! This call allows time for questions and to get to know one another. Please check the month's event and the forum post for more details about how to connect.
Important links: 
Many team members around the country ARE AVAILABLE TO GIVE TALKS. Please contact Lori (see email above)