Chart of the Week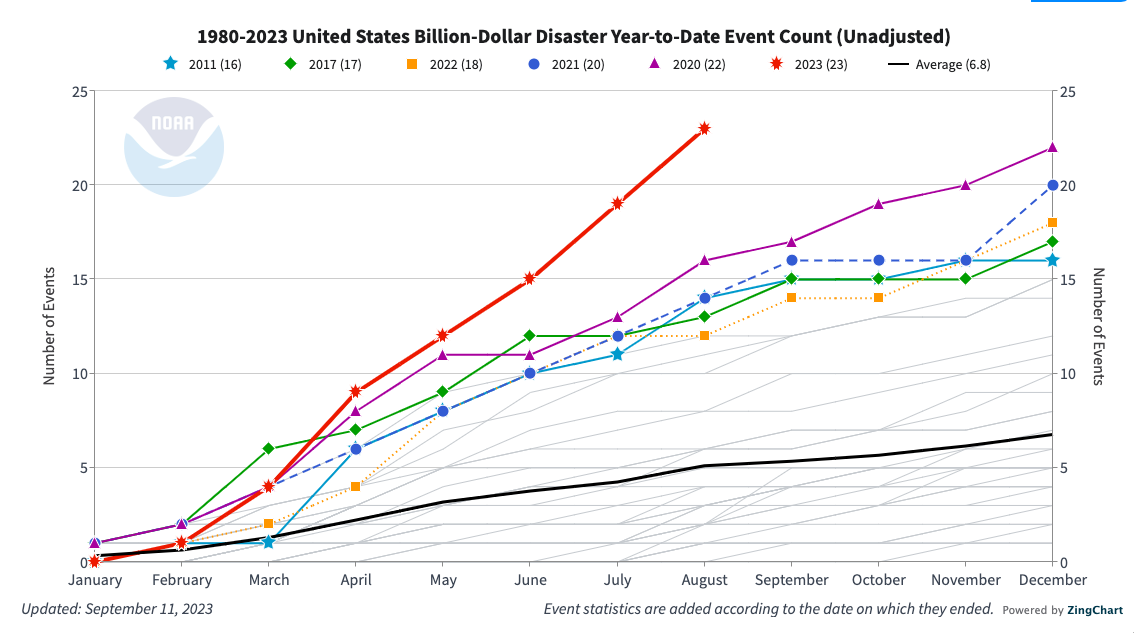 The USA already set a record number of billion-dollar weather disasters in 2023
Join the discussion about the record of at least 23 billion-dollar weather disasters in the USA this year
View Topic
About Us
Description:



Address coal country's transition, while coal use drops
Coal Country conference call
Noon call 1st Wednesday each month on Zoom
12 noon EST / 11 am CST / 10 am MST / 9 am PST
How do I join?
Click the call listed at right as an event, to see the zoom ID. If you can't see it, email to coal@yrr.info.   Please be aware, the Coal Country Action Team is meeting on a new Zoom line so please check the event listed to the right for the Zoom line info.   
Jon Clark
 currently leads the Coal Country Action team.  If you'd like to help to lead the team or would like to learn more about it, please contact Jon.   
Our team focuses on messaging to Members of Congress in coal states, including pathways for transitioning away from burning coal,  like the
New Day for the Coal Fields
 proposal created by CCL coal country volunteers on how to help former coal miners and former coal mining communities rebound from the loss of coal mining, the 
RECLAIM Act
 to use mine reclamation projects for redevelopment, and the Senate's bipartisan 
American Energy Innovation
 bill which consolidates many research and technical assistance efforts.  We keep tabs on issues and legislation of interest to MOC's and mining communities, like 
Carbon Capture
, and the financing of pension and health benefits, including for 
Black Lung
.
Our conference calls regularly include members from
IL, KY, MT, PA, VA, WV, WY
. We'd like to hear more from people in other coal states.