Chart of the Week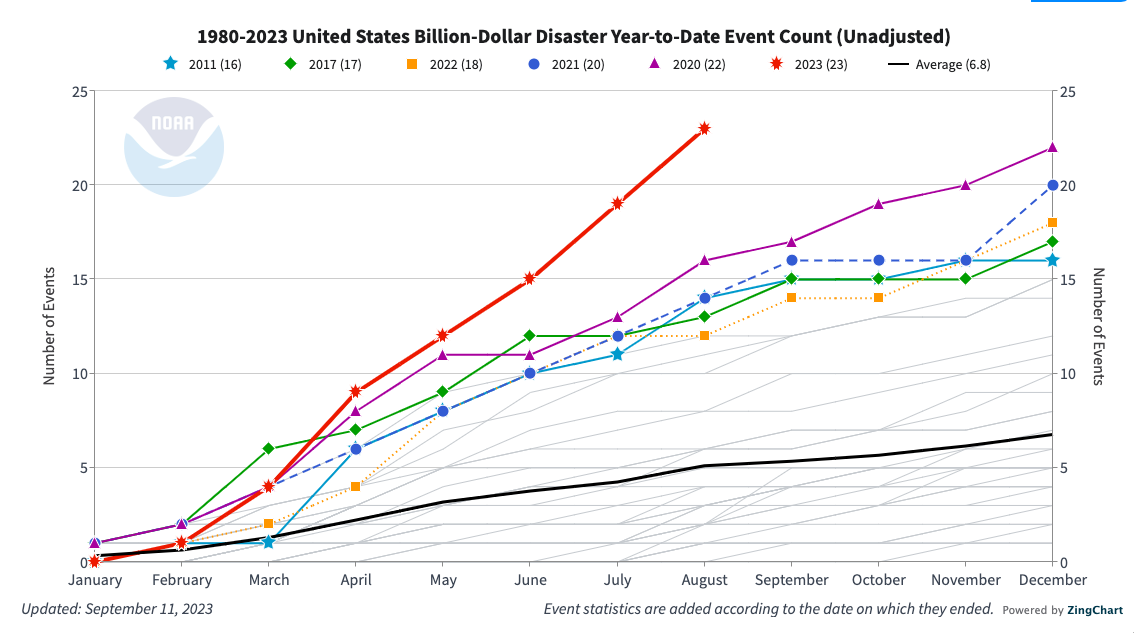 The USA already set a record number of billion-dollar weather disasters in 2023
Join the discussion about the record of at least 23 billion-dollar weather disasters in the USA this year
View Topic
Lobbying resources
CCL Supporting Asks - one-pagers
Supplemental Resources:
June 6 Call slide deck
on the three Ag/Forestry Supporting Asks (supplements one-pagers for greater understanding of the bills)
FAQs for the three bills
Increased TSP Access Act
(both Senate and House)
Cosponsors in House and Senate
Organizations that Support this bill
Seedlings for Sustainable Habitat Restoration
(Senate only)
Our evaluation of the bill
Cosponsors
Lujan's one-pager
Supporters of the REPLANT Act
(this bill is an extension of that one)
Bipartisan Policy Center on seedling supply chain needs to more than double
Save Our Sequoias
(House only)
Cosponsors
Press Release
(includes organizations that support the bill)
118th Congress Guide to Senate and House Committees on Agriculture
 (thanks Greg!)
Nebraska Ag and the Inflation Reduction Act handout
 for use by Nebraska lobbyists and inspiration for others (thanks Moni!)
CCL Training: Farm Bill Basics
with Greg Jason (and Ben Pendergrass briefly talking about the Increased TSP Access Act) and a more regional focus by Greg - 
Farm Bill Basics
Forestry Links
Our YouTube Channel 
https://www.youtube.com/@cclagriculture-forestry
Savanna Institute Resources (agroforestry):
"one"-pager
 and
states with strong agroforestry resources
Agroforestryland.com
- a CCLer's brilliant website to promote agroforestry
CCL's PA Forestry Panel: "Exploring Forest Carbon: Management, Markets & Policy"
ReLeaf Cedar Rapids
 - If you have questions that are not answered in the links within this link, please contact Dina Haveric, ReLeaf Outreach & Communication Manager, 
dhaveric@treesforever.org
, (319) 373-0650 x.211.
CCL Site-wide Forum on Healthy Forests
Popular Science article
on the need for more nurseries growing appropriate urban trees.
Trees are moving north
- WaPo interactive article
Example of laminated wood structure in building -
roof of Portland Airport
Perennials - U of Minnesota's
Forever Green Initiative
What happened to the GCSA?
It was included in The Consolidated Appropriations Act which passed in 2022. If you're interested in the differences between the original GCSA and what passed, you can find it 
here
. 
EICDA resources
Outreach emails to farmers
(written by CCL members)
FAQ on the EICDA and Agriculture
Study on Impact of EICDA on Agriculture
 and
Supplementary Material
 (see pages 23-24 for info on net returns for each crop studied, for year 1 use GHG 15, for year 10 use GHG 25 data)
EICDA Information Sheet with Ag Exemption
SFR Seed supports EICDA - video
EICDA - Farmer Concerns and CCL Responses
 (some of this needs to be updated)
Ag Attitudes on Climate Change
Farmers and ranchers and foresters have the potential of becoming climate heroes by changing land use practices so that their systems create a net sink of greenhouse gases.  They are the ones who can most efficiently scale up the effort to extract carbon from the air and store it in plants, soil, and trees.
Presentation Slides
Information/Fact Sheets
Videos
Media outreach
Grasstops Outreach
Organic Consumers Association
Alexis Baden-Mayer, Political Director, has offered to connect CCL chapters with farmers.  These farmers may be willing to host a tour for a member of Congress of their farm with a CCL chapter.

National Young Farmers Coalition
Would you like to reach out to young and beginning farmers?  The National Young Farmers Coalition might be a good place to start looking for connections.  Jan Storm, Kelly Lively, and Elli Sparks met with Michelle A.T. Hughes, Federal Policy Associate, while in DC for the CCL Conference in June 2019.  
She is open to collaborating in the following ways:
Their Communications Director is leading the effort to craft a climate statement with case studies - if you would like to follow up with them on this, please contact Elli

Elli will help with connecting CCL staff with Young Farmers policy staff at the state and federal level

You can help by Introducing any young farmers in the CCL network with Young Farmers and vice versa