Chart of the Week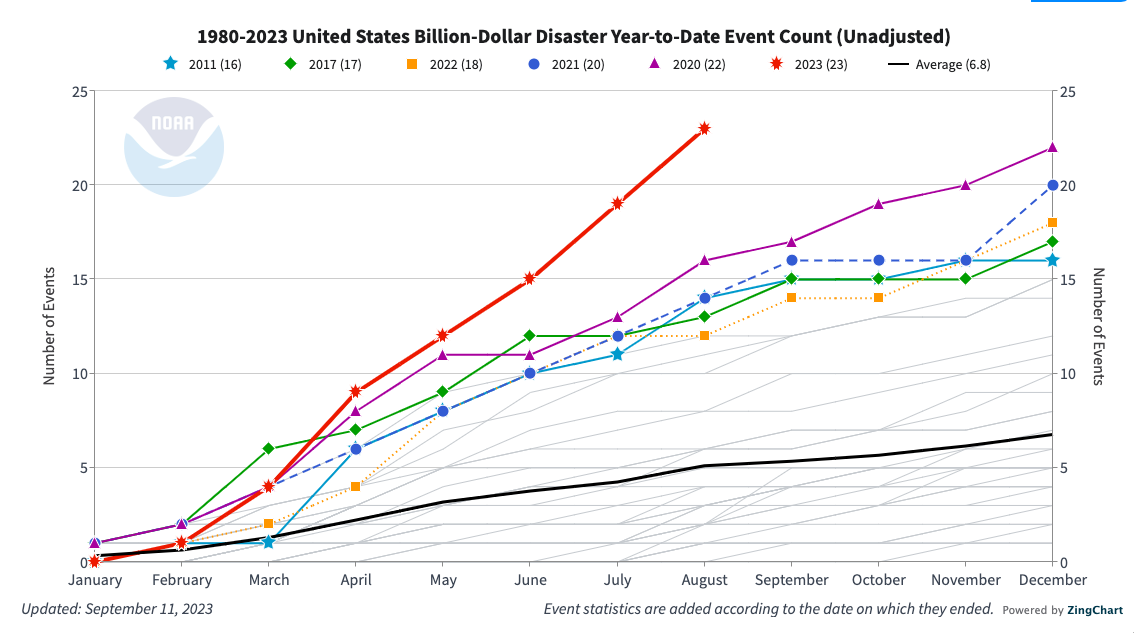 The USA already set a record number of billion-dollar weather disasters in 2023
Join the discussion about the record of at least 23 billion-dollar weather disasters in the USA this year
View Topic
About Us
Description:
Effective Communication Action Team

This action team in the past has focused on the use of "Motivational Interviewing", which offers a set of communication tools anyone can use in their advocacy work. This action team provides a system for learning and practicing these skills, and a forum for sharing how you are using them in your lobby meetings, outreach, recruitment and all your CCL work. 
 
Welcome to the Effective Communication Action Team (formerly Motivational Interviewing), where you can learn and practice communication skills that will be useful in many places in your life, including all your CCL work!
To get started, we recommend listening to the the Introduction to Motivational Interviewing that was recorded in June, 2022, as a formal introduction to what our team has to offer. Please check out other CCL trainings on effective climate communication here. 
Previous skills lessons/webinars can be viewed in the "Files" and "Videos" folders on the left hand side of this group page.  

Other resources for effective communication: 

The Listen First Project: https://www.listenfirstproject.org/
See 10 tips for a ListenFirst Conversation here: https://www.listenfirstproject.org/tips
Braver Angels: https://braverangels.org/
The Center for Nonviolent Communication: https://www.cnvc.org/
Living Room Conversations: https://livingroomconversations.org/

The Center for Climate Change Communication: 
https://www.climatechangecommunication.org/

Neighbors United has done "deep canvassing" around climate policy in Canada. See their toolkit with canvassing script, and other information about their work: https://neighboursunited.org/

Constructive Dialogue Institute conversation simulator: https://constructivedialogue.org/app/difficult-conversations

Recommended Reading: 

High Conflict: Why We Get Trapped and How We Get Out, by Amanda Ripley
Nonviolent Communication: A Language of LIfe, by Marshall Rosenberg, Ph.D.
Say What You Mean: A Mindful Approach to Nonviolent Communication, by Oren Jay Sofer
The Catalyst: How to Change Anyone's Mind, by Jonah Berger
Listening Well: the Art of Empathic Understanding, by William Miller