Chart of the Week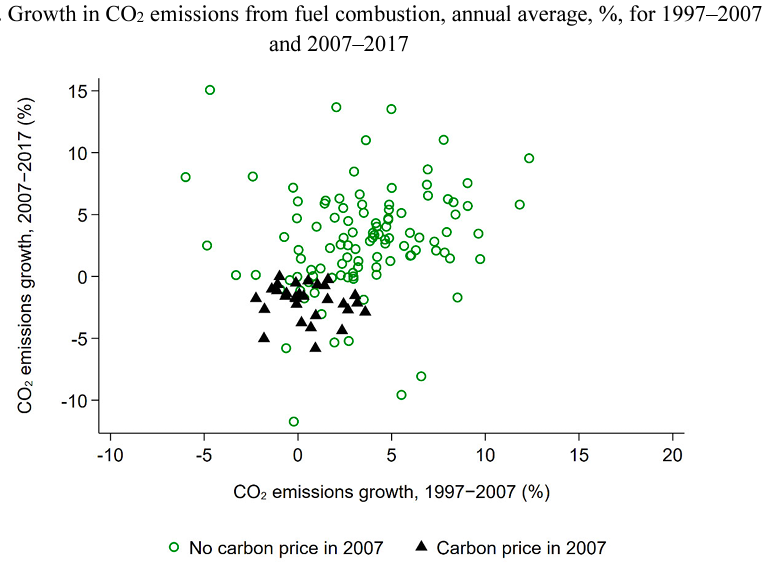 Climate pollution didn't increase in any country with a carbon price
Join the discussion about how we know carbon pricing works
View Topic
About Us
Description:
Climate Change advocacy can be deeply rewarding...yet it can also be stressful and exhausting.
The Resilience Building Action Team aims to help you 
strengthen your resilience
and
support your self-care
.
We provide resources and self-paced trainings to support you on your resilience-building journey - 
The Resilience Hub
:
http://cclusa.org/resilience
We also host two distinct workshops throughout the year and one special focused outreach: 
Our 1-hr Resilience Circle Workshops are a place to share your thoughts, feelings, perspectives and concerns about whatever is top of mind and deep in your heart around the climate crisis. Special focus given to listening and presence.
Our ONGO groups meet for 12-weeks to enable authentic heart-to-heart connections, helping us to bridge differences. Up to 20 participants engage in structured exercises and expansive dialogues for small groups and partners.
Resilience for local groups - The RBAT members help our CCL chapters and volunteers stay strong and steady working to foster connection and stay strong as groups implement new policy. More here.
Come join us! For questions, concerns, or resource ideas, please email Jeff: 
joslin.jeff@gmail.com.
 Thx!
Index to Resilience Building Links

CCL Resilience Building Action Team on Community: https://bit.ly/CCLResilienceBuilding

Key Links for ONGO
Key Links for Active Hope Workshops
What is Resilience?
This short video from the Resilience Hub highlights what resilience might look like for those of us so deeply committed to climate advocacy
ONGO is Making a Difference in our Chapters
As featured in the
CCL Blog
, "How come we're all getting along so well?", by Judy O'Leary and Laura Sacks, volunteers in the Nelson – West Kootenay chapter of CCL in British Columbia, Canada, are noticing marked improvement in the general sense of connectedness and patience in their chapter, among other benefits. Read more
here
. 
Good Grief Network: 10-Steps to Personal Resilience & Empowerment in a Chaotic Climate
You are invited to join the Good Grief Network for our newest rounds of "10-Steps to Personal Resilience & Empowerment in a Chaotic Climate" groups. For more information on the overall program, click here to head to our 10-Step info page. 
A Practice of Gratitude Builds Resilience
Resilience is our ability to adjust to and bounce back from adversity and setbacks.  Resilience can be measured, learned and enhanced.  Seven primary resiliency skills have been identified by the University of Pennsylvania's School of Positive Psychology.  Optimism and beliefs about our effectiveness in the world are two skills that we can grow when we build on our practice of gratitude.  Would you like more gratitude in your life? 
Read more here ... 
- Positive Psychology: Resilience Skills offered by University of Pennsylvania: on Coursera.