Chart of the Week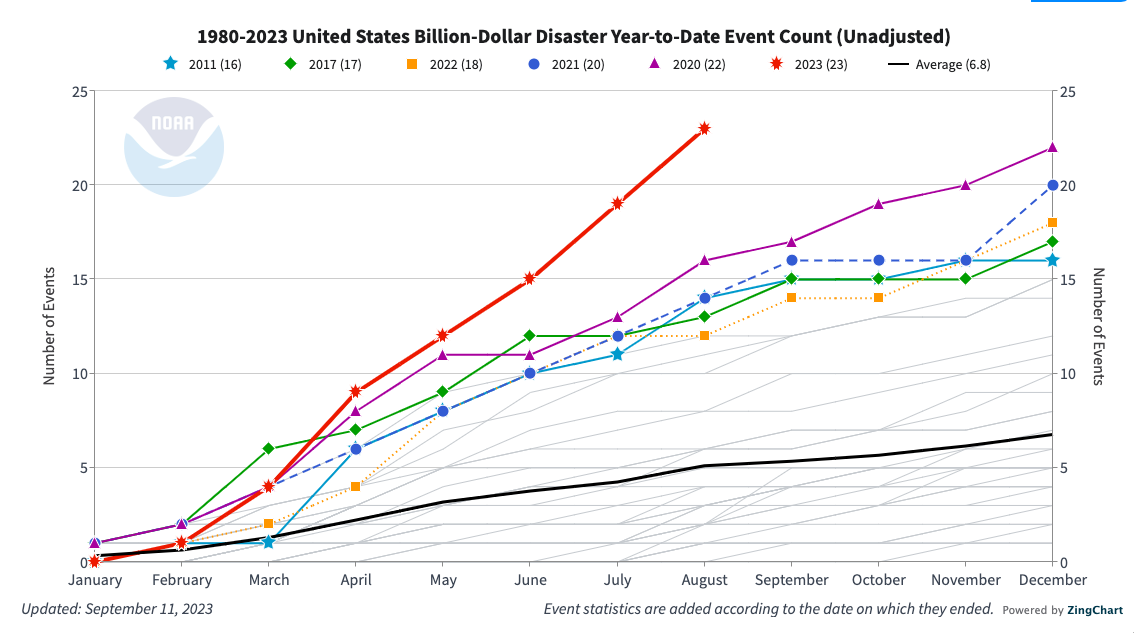 The USA already set a record number of billion-dollar weather disasters in 2023
Join the discussion about the record of at least 23 billion-dollar weather disasters in the USA this year
View Topic
About Us
Description:
Presenters & Schedulers Action Team: Proactively proposing, scheduling and delivering solution-focused climate presentations.
---
Purpose.  Scheduling and delivering presentations is powerful grassroots outreach.  Our mission is to super charge your climate advocacy by providing the means to deliver motivating, solution-based presentations that build and shape political will.
---
Benefits. Preparing citizens to help lobby when a bill is introduced in Congress; gain first hand knowledge of local climate perspectives; grow CCL membership; amplify climate activism; develop grasstops relationships; stimulate public calls for climate action to Congress; hone your climate communications skills; and best practices for your chapter's 'speakers bureau'.
---
Motivational Presenting – Training & Support.  Learn how to extend and enhance your presenting skills in ways that galvanize your audiences in taking action. Contact Action Team Co-lead Dave Cain.
Virtual Presenting – Training & Support.  Can on-line presenting be more effective than in-person presenting?  Learn the in's and out's of impactful Zoom presenting.  Contact Action Team Co-lead John Keller.
---
Scheduler Resources – Schedulers book the speaking engagements.
Training
Tools
Other Documents
---
Presenter Resources
Training
CCL Introductory Presentation
Audience Specific Slides
Contributed Slide Decks
Drop In Slides
Other Documents
Presenters Webinar Archives
CCL Presenters Channel
(Presenters YouTube videos)
---
Co-Lead Opportunities – Are you interested in Co-leading one of CCL's largest, most dynamic action teams?  We have other Co-Lead roles to fill.  Help take us to the next level.  Discover the magic that happens as you join us outside the box. Contact us:  Dave Cain, Abe Mazliach, or John Keller
---
Let us know how you like the new layout of our Action Team Welcome Page:  climateguardian100@gmail.com