Chart of the Week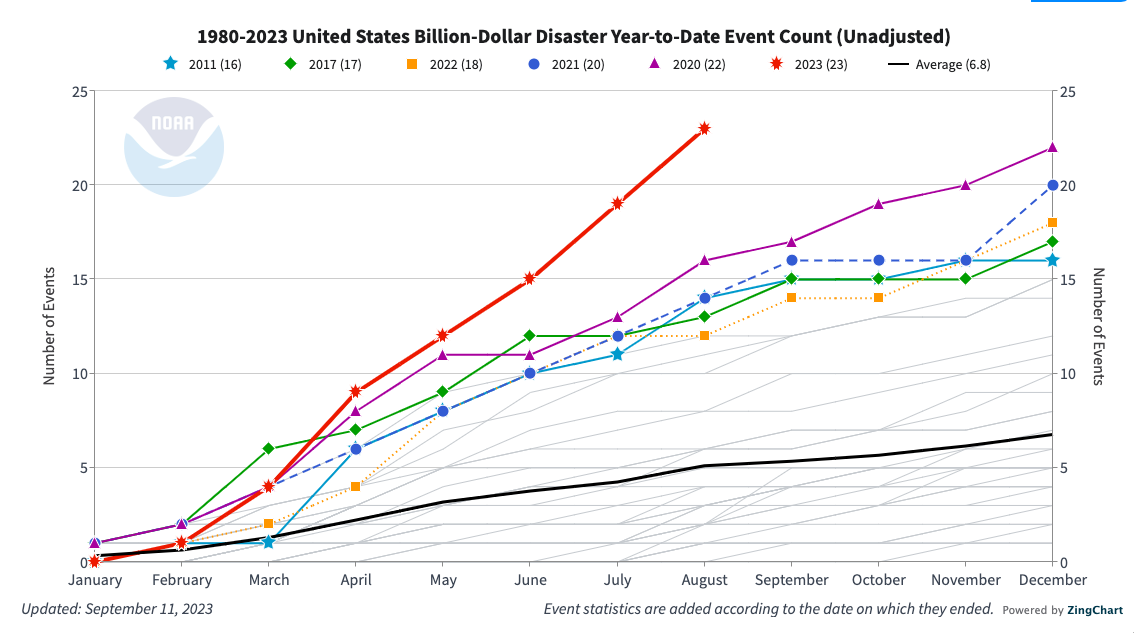 The USA already set a record number of billion-dollar weather disasters in 2023
Join the discussion about the record of at least 23 billion-dollar weather disasters in the USA this year
View Topic
About Us
Description:
Welcome to the State Policy Action Team! 
CCL's primary goal is the adoption of strong, effective climate policy by the US Congress. State-level policies can help us achieve this national goal. Local policies serve to not only enable local action but also create momentum at the national level.
CCL's State-Level Criteria
How does CCL determine whether to support a particular state-level policy? CCL National provides some general guidance on our Local, State and National Level Policy Engagement Page. Historically, CCL supports climate policies or resolutions efforts that meet five criteria:
Aligns with our Strategic goals (below)
It reduces greenhouse gas emissions more than existing policies
It protects the poor and working class
It meshes well with a national price on carbon
It is politically feasible 
Recordings of past monthly calls
FAQ
Strategic Goals for of CCL's State-Level Policy Work

For a full review, see CCL's training on Local and State Level Policy Engagement.

The strategic goals that should be considered when deciding whether to join a state policy campaign are:
Pressure and/or cover for federal legislators to take bolder action.
Pressure and/or cover for important advocacy groups to take a bolder federal advocacy position.
Growing the diversity of the movement calling for strong climate legislation.
As that movement grows, being open to opportunities for endorsements/statements of support for federal legislative priorities.
Build bipartisan support for climate action.
Just as we expect in other forums: To keep the trust and confidence CCL members have with members of state legislatures and their staff we ask that all posts are kept as general questions asked without mentioning specific lawmaker member names or without mentioning specifically what was said in CCL  meetings or correspondence. 
CCL volunteers are actively working on campaigns in Oregon, Utah, New Mexico, Virginia, DC, Maryland, Pennsylvania, Massachusetts, New York, Maine, New Hampshire, Hawaii, and others. 
Where ever you are, I hope that this action team will help you plug into carbon pricing efforts in your state.