Chart of the Week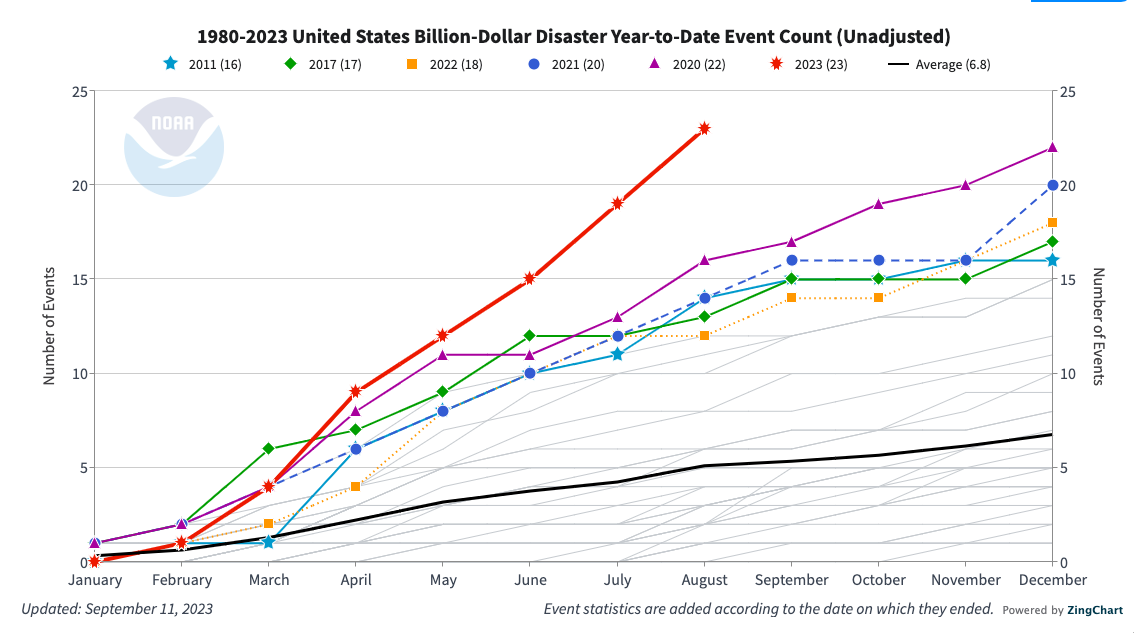 The USA already set a record number of billion-dollar weather disasters in 2023
Join the discussion about the record of at least 23 billion-dollar weather disasters in the USA this year
View Topic
About Us
Description:
Welcome to the Unitarian Universalists' Action Team!  
🙂
We are bringing the power of Unitarian Universalism to advance CCL's goals.
Our Action Team meets bi-monthly on the
third Monday of odd-numbered months
at 8pmET.  
Check out our short, impactful 
video
describing UUs in CCL:  
https://www.youtube.com/watch?v=S182jkKzpe0
NEWSFLASH:  Unitarian Universalist Member of Congress Judy Chu (CA-27) is a lead co-sponsor on the EICDA of 2021!    Please watch and share this video of the Congresswoman explaining why she supports it!  
bit.ly/UUJudyChuEICDA
If you haven't done so yet, please
let us know
how your UU congregation/fellowship/society supports CCL's work.  Comment on
this Google Sheets spreadsheet
.
Please join our Forums to engage in discussion or reach out to
Ann
or
Nadine
with questions! 
Co-leaders Ann Perry and Nadine Kadell Sapirman are looking forward to working with you to
bring the power of our UU faith to further CCL's goals;

educate our UU friends about CCL and the benefits of a carbon fee and dividend;

solicit and secure Endorsements from our UU congregations/fellowships/societies and clergy;

work with leadership of the UUA to support the Energy Innovation and Carbon Dividend Act and our UU volunteers
WHO WE ARE 
Our Action Team members bring the power of UUs to climate action, and empower people through democracy.

Take one minute to learn more with this video!
There are hundreds of UUs all around the country that volunteer for CCL, educate their churches/congregations/fellowships and ministers, and seek endorsement or support of this carbon pricing policy. 
 
WHO SUPPORTS CARBON PRICING with CARBON CASHBACK?
The Unitarian Universalist Association endorsed the EICDA in March of 2019 with a Statement of Support.  

Two of the three Unitarian Universalist Members of Congress are co-sponsors of the EICDA:  Judy Chu (CA27) and Deborah Ross (NC02)

See Judy Chu talk about the EICDA in her own words here in this 3-minute video:  bit.ly/UUJudyChuEICDA 

As of May 2023, 55 UU congregations, 28 UU ministers and 2 UU state legislative organizations have endorsed the EICDA.
WHAT CAN YOU DO?