Chart of the Week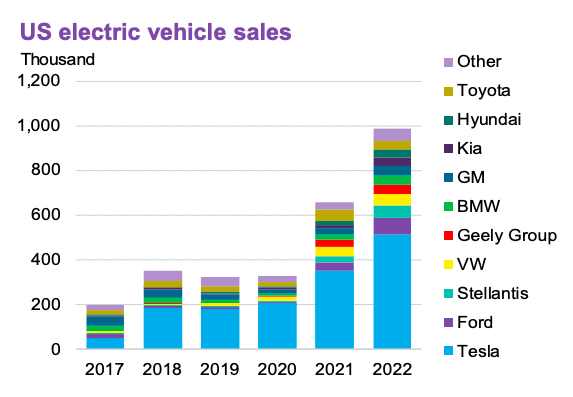 EVs reached 7% of new car sales in the US in 2022
Join the discussion about the 2023 Sustainable Energy in America Factbook
View Topic
About Us
Description:
Our Mission: To support CCL chapter members located in Coastal Districts and districts which include large rivers and lakes. 

Our Core Belief: Members of Congress are obliged to help solve the problems that Climate Change is causing in their districts.  By providing information about Carbon Pricing and Nature-base Solutions we intend to stabilize the climate through legislation which will reduce carbon emissions and enhance carbon sequestration.  
So welcome to the Coastal Impacts Action Team Our purview is all 119 US coastal congressional districts. This is approximately 186+ CCL chapters. Every coastal district in Alaska, Hawaii, West Coast, the Atlantic seaboard and the Gulf Coast.  Share your experiences and resources with other chapters, build a data base of useful tools, learn new techniques for Grasstops outreach -- all here at CI-AT.
Our Monthly Call is on the second Tuesday of each month at 8 PM ET, 5 PM PT  

 
---
For articles and websites of interest, click the links below:
Resources Authored by CCL members, Guest Speakers, National Call Presenters, etc
 
Sea Level Rise articles and research papers
Resources for Coastal Climate Impacts
These are links to Climate Central, First Street Foundation, and other websites
C

oastal Risk Screening Tool - Interactive mapping tool allowing users to explore coastal flood risk and sea level rise projections by decadal year or specific water levels.
Portfolio Analysis Tool - Quantifies coastal flood risk to real estate holdings, insured properties, critical facilities, commercial sites, infrastructure, etc...
WeatherPower - Downloadable graphics on local wind and solar energy production. 
Climate Matters - Weekly bulletins with high-quality graphics, analysis, and background information... 
RiskFinder - Provides local sea level rise and flood risk analysis, fact sheets, and data downloads for zip codes, municipalities, counties, and other areas within the United States. Shows coastal flood risks for over 100 demographic, economic, infrastructure, and environmental variables.  
Realtime Climate - (coming soon!)  Personalized emails are providing Climate Central content on climate impacts and solutions when most relevant for individual U.S. locations.  
Firststreet.org -First Street Foundation is an excellent tool for flooding throughout the USA.