Chart of the Week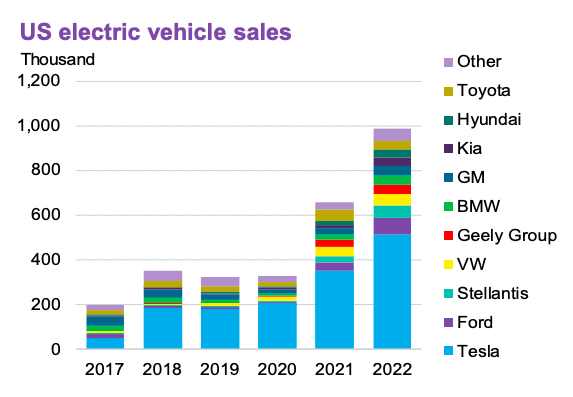 EVs reached 7% of new car sales in the US in 2022
Join the discussion about the 2023 Sustainable Energy in America Factbook
View Topic
About Us
Description:
Welcome to CCL's Building Electrification Action Team.

Our Vision: Buildings everywhere have zero emissions.

Our Mission: Utilize CCL's levers of political will with all levels of government, communities, and the electric and transport industries to drive greater electrification and energy efficiency consistent with achieving national emissions reductions goals.
The Electrification Action Team's co-Leaders are Pete Marsh.(CCL Community, LinkedIn), Jay Bassett (CCL, in), Marc Friedmann (CCL, in), Julia Moravcsik (CCL, in), and Michael Metzner (CCL, in).
Climate Pollution Reduction Grants: Call to Action for March and April 2023!!
March 15 2023, the Electrification Action Team (Jay and Pete) hosted a second webinar on EPA's Climate Pollution Reduction Grant Program. (deck). We split the webinar into two parts:

a 13 minute "just the facts" overview of the funding, the Notice of Intent to Participate, and an introduction to Metropolitan Statistical Areas and how they will drive interaction amongst cities, counties, councils of governments, and even states.
a 38 minute deeper dive into local engagement.
The key message is that this EPA CPRG program will be key to cities, states, tribes, counties, and CBOs can improve their competitive positioning for up to ~$43B in IRA funds.
Email Pete or Jay with any questions about the CPRG grants, the process, and local engagement; we can also speak to your chapter meetings.

Leverage CCL's resource titled Climate Pollution Reduction Grants - Letter Templates to encourage States and Metropolitan Statistical Areas (MSAs) to create a joint application for these funds. There are two templates, in docx format, that you can download, customize, and send:

Template for a letter to State officials.
Template for a letter to MSA officials (cities, counties, regional "Councils of Governments," etc).
We'll be adding a third template for cities that are in MSAs smaller than the largest 67, which would encourage them to engage their states and their larger nearby MSAs, because CPRG allows MSAs that are among the largest 67 to encompass smaller cities if they wish. 

The previous webinar was Feb 23, 2023, the Electrification Team hosted a webinar on EPA Climate Pollution Reduction Grants. Here are the Deck and Recording from that webinar.
Here is EPA's 58pp guidance for these grants.
The months of March-April 2023 are KEY for future funding: all 50 states, DC & Puerto Rico, must submit Notice of Intent to Participate by March 31, 2023. The 67 largest Metropolitan Statistical Area (MSA) must submit one month later, by April 28th.
EPA will grant $3M to each state + DC/PR, and $1M to each MSA, which they can use to develop Climate Action Plans in two phases: Priority (initial) and Comprehensive (final).
Importantly, if a state declines to participate in CPRG, it forfeits the $3M funding; and instead, EPA will distribute $1M to each of the next three largest MSAs in that state.
Electrification Resources:

Groups we collaborate with and respect because of their deep knowledge, existing resources, and networks:

Leveraging our Professional Networks:
We use LinkedIn as a key element in our outreach, since it is so effective at unearthing connections to industry executives, officials, and more from CCL members across the country. Connect to Michael, Julia and and Pete on LinkedIn, along with other Electrification Sector team members, other CCLers, and the CCL LinkedIn Group.