Chart of the Week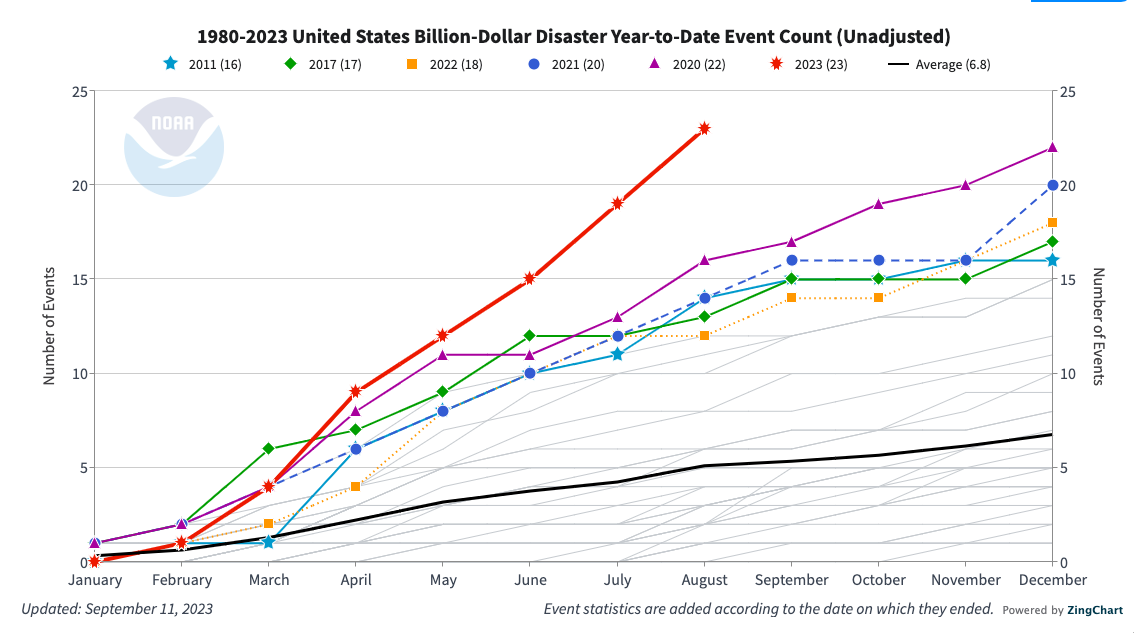 The USA already set a record number of billion-dollar weather disasters in 2023
Join the discussion about the record of at least 23 billion-dollar weather disasters in the USA this year
View Topic
About Us
Description:
Welcome to CCL's Building Electrification Action Team.

Our Vision: Buildings everywhere have zero emissions.

Our Mission: Utilize CCL's levers of political will with all levels of government, communities, and the electric and transport industries to drive greater electrification and energy efficiency consistent with achieving national emissions reductions goals.

Our Resources: On this page, you'll find direct links to our webinars, select CCL resources, and select external resources. Our Google Drive repository has much more material; the key to finding it is our deceptively simple sounding Overview Deck: 
Details: WHY to Electrify, and HOW (technical, financial, and finding contractors)

Engaging to Electrify: Governments & Community Orgs (federal, state, local, and Community Based Organizations)

Action Team Centers of Excellence (we have ten, and growing! Heat pumps, water heaters, induction stoves, EVs, the grid, IT, community engagement, and even yard tools!)

Finding Federal Funds

Noteworthy State & Local Policies
The Electrification Action Team's co-Leaders are Pete Marsh (CCL Community, LinkedIn, email), Jay Bassett (CCL, in, email), Marc Friedmann (CCL, in, email), and Michael Metzner (CCL, in, email).

We hold webinars and are available to consult with chapters on topic related to electrification and efficiency. We cover a range of electrification and efficiency-related topics, including:
How to Electrify: Technical Details, Financing, Working with Contractors:
Engaging: State & Local Governments, Community Based Organizations, Professional Groups
This page includes links to decks, recordings, partner organizations, and other professional groups working on the electrification challenge.
Webinars and Calls - Decks and Recordings:
October 8: (This webinar is rescheduled from September 11). Jay Bassett will lead a discussion on his personal experience adding residential solar in Georgia, a non-solar-friendly state (no net metering, low export rates). But his neighborhood worked together to form a bulk buy, and a contractor gave them a discount: group pricing power! They also arranged with Microsoft Corp to buy their Social Renewable Energy Credits (SRECs) at a favorable price, and are donating those proceeds to a nonprofit that weatherizes low income housing. Pete Marsh, a solar contractor, will compare the financials of his system to typical systems in California under CA's Net Metering 2.0 versus NEM 3.0. Join us and share your own experience! And please send Pete info about the economics of your own solar installation - we'll work it into the discussion if we can. The full event description is on our calendar, and the deck and recording will be in our Google Drive folder.
September 18: No meeting this week.
August 21: Julia Moravcsik led a discussion on Electric Vehicles and how they are a big part of the #Electrification challenge: EV electricity usage as a fraction of building energy usage; bidirectional charging (V2H / V2G); maximizing the impact of incentives by focusing on Super-Commuters (high mileage drivers); and more! Brief notes are in this Forum Post, which has links to the deck and recording in our Google Drive folder.
August 14: No meeting this week - check in August 21st for our next call!
July 31 and August 7: We had two really inspiring weekly calls, jointly with the Youth AT, on the YAT's Great School Electrification Challenge! There's a detailed Forum post with notes; links to the slide decks and recordings; and actual decarbonization / electrification / climate policies from around the nation.

2023.07.31: presentations from four student-led teams that have achieved or are pursuing school board resolutions.
2023.08.07: continued discussion and Q&A..

July 10: How Can the Electrification Action Team better assist YOU (each of us, our chapters, and other Action Teams) in your CCL work on Building Electrification and Efficiency? We've heard a lot of great suggestions and questions over the last few months; and at the CCL Conference last week, several members of the Action Team got together for dinner and conversation, thanks to John Stolzenberg. They had some great suggestions, which we'll post here in the next few days to frame this discussion.
July 3: no meeting - Happy Independence Day long weekend!
June 26, 2023: follow up from CCL Conference and Lobby Days - electrification was not an Ask this time (rightly so), but did the topic arise during any lobby meetings? On the other hand, Clean Energy Permitting Reform was a Primary Ask and is a key enabler for electrification - how did these discussion go?
June 19, 2023: no meeting.
June 12, 2023: no meeting - enjoy the CCL Conference and Lobby Days!!
June 5, 2023: Marc Friedmann will present on home electrification automation.
May 29, 2023: no meeting - have a pleasant Memorial Day!
May 22, 2023: (deck | no recording available). we discussed space heating and cooling, and related considerations. These include weatherization; insulation; blower door tests (or energy modeling or Manual Ja calculations); heat pumps (ductless (mini-split) or ducted?); dehumidification; main breaker panel upgrades; and pre-wiring your house for future electric appliances.
May 15, 2023 (recording | deck: Unpacking Federal EPA Climate Funding | supplemental deck 1: Federal Funding and Policy for Communities | supplemental deck 2 ABCD Federal Resources Sheet, Southeast Environmental Justice Summit): We discussed CCL chapters and members engaging with Community Based Organizations in San Diego County CA, Mt Pleasant MI, Missoula MT, Silicon Valley, and Long Beach CA. These included examples of national groups with local chapters, such as CRP, 350, Sierra Club, Audubon, CBD, and more; as well as local and regional groups including East Yards Communities for Environmental Justice, Coalition for Clean Air, and others in the Los Angeles / Long Beach area.
May 8, 2023:(deck | no recording available): Working with Professional Groups such as US Green Building Council, American Institute of Architects, and more. 
May 1, 2023 (no recording available): Finding and working with contractors who "speak heat pump." How did members find contractors? Did you receive "pushback"? 
April 24, 2023 (deck | recording): We discussed the various approaches taken to phase out gas in the built environment, both new construction and existing buildings in the 70 CA cities and 30 others that have taken action. These include all-electric requirements, all-electric readiness, public health / air quality limits, and natural gas policies. 
CL California Conference, April 1-2, 2023: "Electrification: Our Decarbonization Superpower!" Pete Marsh led a 2 hour workshop (deck | recording) covering:
Electrification Resources:
2023.03.02 - Home Electrification and Efficiency Opportunities from the Inflation Reduction Act: CCU, presented by CCL's Dana Nuccitelli. www.zoom.us/j/273716354. The webinar was Thursday March 2nd, 2023. Slide deck is here, recording will be here. Lots of detail about the technologies and incentives available to make our homes more electric and efficient, and resources available from CCL to educate your friends and families and communities about these opportunities.
Great set of links from CCL's Fairfax County VA chapter covering IRA, weatherization, solar, and buying guides.
CCL Mid-Atlantic Conference Deck by Dr. Cliff Strawitch, CCL Howard County, MD, Feb 26, 2023.
CCU presentation March 2, 2023 on Home Electrification and Efficiency Opportunities from the Inflation Reduction Act by SEAL-award winning CCL Research Coordinator Dana Nuccitelli.
The IRA Benefits Consumers, by CCL Fairfax County VA chapter, February 2023.
CCL's Position on Permitting Reform: A September 2022 post by VP Tony Sirna, and another from December 2022, which both do a nice job describing the important balance to be struck here. 

Groups we collaborate with and respect because of their deep knowledge, existing resources, and networks:

Leveraging our Professional Networks:
We use LinkedIn as a key element in our outreach, since it is so effective at unearthing connections to industry executives, officials, and more from CCL members across the country. Connect to Michael, Julia and and Pete on LinkedIn, along with other Electrification Sector team members, other CCLers, and the CCL LinkedIn Group.
Climate Pollution Reduction Grants: March and April 2023
This was our Call to Action for March and April 2023. We'll retain key links, decks, and letters here for reference while the IRA programs linked to these grants are being rolled out in 2023-2025 (and perhaps beyond). 
The most important thing to know is that this EPA CPRG program requires cities, states, tribes, counties, and Community Based Organizations (CBOs) to develop Climate Action Plans (CAP), and the CAPs will be evaluated during competitive grants for up to ~$43B in IRA funds
.
Here is EPA's 58pp guidance for these grants.
EPA will grant $3M to each state + DC/PR, and $1M to each MSA, which they can use to develop Climate Action Plans in two phases: Priority (initial) and Comprehensive (final). Importantly, if a state declines to participate in CPRG, it forfeits the $3M funding; and instead, EPA will distribute $1M to each of the next three largest MSAs in that state.
The months of March-April 2023 were KEY for future funding:

All 50 states, DC & Puerto Rico, were required to submit Notice of Intent to Participate by March 31, 2023.
The 67 largest Metropolitan Statistical Areas (MSA) were required to submit NOIP one month later, by April 28th. 
The final NOIP Status List is at https://www.epa.gov/system/files/documents/2023-05/NOIP Status Lists_0.pdf. Only four states declined to submit (FL, IA, KY, SD). The $12M that they therefore forfeited was distributed to 12 MSAs smaller than the initial list of 67. 

Leverage CCL's resource titled Climate Pollution Reduction Grants - Letter Templates to encourage States and Metropolitan Statistical Areas (MSAs) to create a joint application for these funds. There are two templates, in docx format, that you can download, customize, and send:

Template for a letter to State officials.
Template for a letter to MSA officials (cities, counties, regional "Councils of Governments," etc).
We'll be adding a third template for cities that are in MSAs smaller than the largest 67, which would encourage them to engage their states and their larger nearby MSAs, because CPRG allows MSAs that are among the largest 67 to encompass smaller cities if they wish. 

March 15 2023, the Electrification Action Team (Jay and Pete) hosted a second webinar on EPA's Climate Pollution Reduction Grant Program. (deck). We split the webinar recording into two parts:

a 13 minute "just the facts" overview of the funding, the Notice of Intent to Participate, and an introduction to Metropolitan Statistical Areas and how they will drive interaction amongst cities, counties, councils of governments, and even states.
a 38 minute deeper dive into local engagement.
Email Pete or Jay with any questions about the CPRG grants, the process, and local engagement; we can also speak to your chapter meetings.